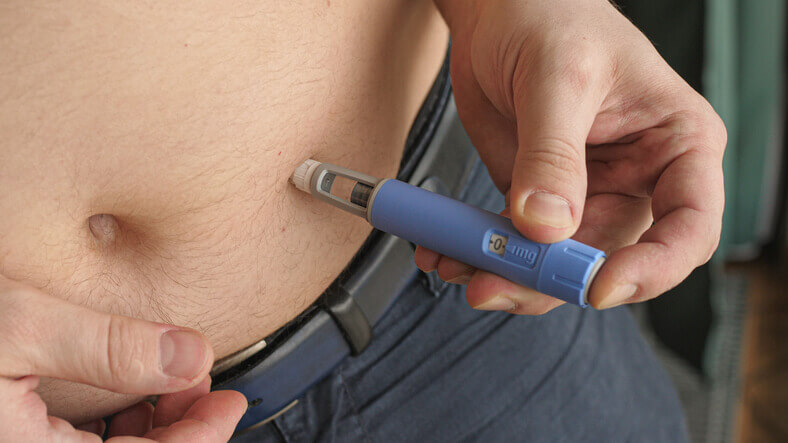 If you or a loved one are living with diabetes, you may have heard about the ground breaking advancements in diabetes management, particularly the use of Semaglutide injections. It's hard to avoid talk of this medication, especially in recent months.
Semaglutide, a medication belonging to the class of glucagon-like peptide-1 (GLP-1) receptor agonists, has been garnering significant attention for its remarkable potential in helping individuals with diabetes achieve better blood sugar control and overall health.
In this article, we delve into everything you need to know about Semaglutide injections, why it may be a game-changer in diabetes management, and it's one other benefit that makes it a very popular drug today.
Understanding Semaglutide
Semaglutide is a synthetic analog of the naturally occurring GLP-1 hormone that plays a vital role in regulating blood sugar levels. GLP-1 receptors in the body stimulate the production of insulin and suppress the release of glucagon, a hormone that raises blood sugar levels.
By mimicking the action of GLP-1, Semaglutide helps lower blood sugar levels after meals and A1C, and also effectively reduces appetite. For many patients on Semaglutide, portion control becomes easier.
Powerful Blood Sugar Control
The primary benefit of Semaglutide lies in its ability to effectively control blood sugar levels in people with type 2 diabetes by increasing the levels of insulin in the body.
Clinical trials have demonstrated Semaglutide injections' ability to significantly reduce hemoglobin A1C levels in patients—an important marker of long-term blood sugar control. In addition, it slows the amount of sugar released into the blood. Blood sugar levels typically begin to drop within a week of taking Semaglutide.
By keeping blood sugar within a healthy range, individuals can reduce the risk of diabetes-related complications, which contributes to better health and well-being.
Now Approved for Weight Management
For many individuals, weight loss is a significant challenge. Since 2021, Semaglutide injections (under the brand name Wegovy) have been approved by the Food and Drug Administration (FDA) for weight management for individuals with certain risk factors. It is now considered a type of anti-obesity treatment.
When combined with diet and exercise, patients who struggle with weight control can experience significant weight loss. In an earlier study of 2,000 obese adults, Semaglutide injections, combined with diet and exercise, was able to garner 15 percent loss of body weight in 68 weeks. The medication works by reducing appetite and increasing the feeling of fullness, leading to reduced food intake and ultimately supporting weight loss efforts.
A Convenient Once-Weekly Dose
One of the most appealing aspects of Semaglutide injections is the convenience of the once-weekly dose. Unlike some diabetes medications that require multiple daily administrations, Semaglutide injections offer a simple and easy-to-follow dose regimen, which can enhance adherence and patient satisfaction. The usual dosage prescribed for weight loss is 2.4 milligrams, administered once a week as subcutaneous self-injections, meaning the injections are given just beneath the skin.
Potential Side Effects and Considerations
As with any medication, Semaglutide injections may have side effects, although they are generally well-tolerated. Common side effects include mild gastrointestinal symptoms like nausea and vomiting, which usually improve over time. It is essential to discuss potential side effects and any existing health conditions with a medical provider before starting Semaglutide.
Also, there is a risk of gaining weight back once you stop Semaglutide injections. This is why the treatment should be combined with a long-term goal of changing your diet and lifestyle habits, so you can maintain your weight loss after treatment has been completed.
Before considering Semaglutide injections, it is crucial to consult a medical provider, as the drug is only available with a doctor's prescription. A medical provider will take into account your health history, current medications, lifestyle, and treatment goals to determine the most suitable and optimized treatment plan for diabetes and weight management.
Semaglutide Injections for Weight Loss in Dallas, Texas
The health and wellness specialists at North Dallas Wellness Center specialize in medical weight loss for patients who are overweight or obese and with certain risk factors. We are happy to offer Semaglutide injections for the right patients. Come see us, and we may be able to prescribe Semaglutide to you after a thorough assessment of your overall health, goals, and preferences. Dr. David Fein is deeply committed to helping you look and feel your best.
To find out if you are a good candidate for Semaglutide injections, schedule a consultation now. Call us today at (214) 696-3885 or use our contact form to reach us.