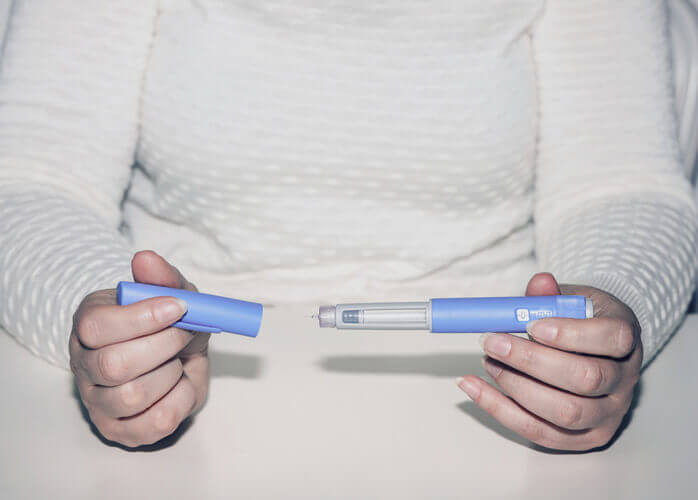 Type 2 diabetes is the most common form of diabetes. It develops because of a problem in the way the body regulates and uses blood sugar as fuel. This occurs either due to the insufficient production of insulin or the inability of cells to take in insulin.
While many people with type 2 diabetes can control their blood sugar levels with exercise and healthy eating, others may need medication or insulin to manage it. Semaglutide is a popular medication that is used to help control blood sugar levels in people with type 2 diabetes. It is available through medications such as Wegovy, Ozempic, and Rybelsus.
If you are considering Wegovy for type 2 diabetes treatment, here is what you need to know about it.
Wegovy for Type 2 Diabetes
Different brands of semaglutide have been approved for different uses. Wegovy is approved for chronic weight management in adults and children ages 12 and older. On the other hand, Ozempic has been approved to manage blood sugar levels in people with type 2 diabetes. Semglutide is present in higher doses in Wegovy than in Ozempic.
Even though Wegovy has not been approved for the treatment of type 2 diabetes, your healthcare provider can prescribe it as an "off-label"drug for type 2 diabetes.
Benefits of Wegovy
Here are some benefits of Wegovy.
Weight Loss
A clinical trial studied the effect of Wegovy on people living with type 2 diabetes and found that after 68 weeks, participants who took Wegovy lost nearly 10% of their body weight.
This is more weight loss than what is typically seen with other antidiabetic drugs. Wegovy keeps the body fuller longer between meals, which contributes to weight loss.
Improved Blood Sugar Control
Wegovy also helps improve blood sugar control in people living with type 2 diabetes. The clinical trial has shown that people who took Wegovy had significant reductions in their A1C levels (a test to check the diabetes status of the past three months).Semaglutide, which is a GLP-1 receptor agonist, regulates blood sugar by enhancing insulin secretions. It also suppresses the liver from producing too much sugar.
Reduced Risk of Cardiovascular Diseases
Wegovy has also shown benefits in people who are at high risk for developing cardiovascular diseases due to obesity, diabetes, and other risk factors. This is likely due to the fact that this drug helps lower blood sugar levels, blood pressure, and cholesterol levels, reducing the risk of cardiovascular diseases.
Considerations for Wegovy
Here are some factors that you and your healthcare provider should consider before selecting Wegovy as your type 2 diabetes treatment.
Side Effects
Gastrointestinal-related side effects such as nausea,constipation, and diarrhea commonly occur when patients first start using Wegovy. These digestive system-related side effects tend to be more common with dosage increases.
Wegovy can worsen the vision of people who have diabetic retinopathy and are using insulin. Therefore, always inform your doctor about any vision problems or diabetes-related eye problems before starting Wegovy.
Cost
Wegovy is an expensive drug, and it may not be covered by your health insurance.Therefore, consider the cost and your insurance coverage for Wegovy before selecting it for the management of type 2 diabetes.
Wegovy In North Dallas, TX
Whether you want to shed extra pounds or are looking for an effective way to manage your blood sugar levels, our highly trained and compassionate doctor, Dr. David Fein, has you covered. Dr. Fein recommends medications like semaglutide and trizepatide, along with a healthy diet and regular exercise, to help men and women in and around North Dallas, TX achieve and maintain a healthy weight, while also keeping their blood sugar levels under control.
If you would like to know more about Wegovy or want to make an appointment with Dr. Fein, call us today at (214) 696-3885 or use our online appointment scheduler to schedule an appointment